Call Recording
The Call Recording service records your calls, saving them as audio files for downloading and playback later. These are stored securely and you can access them via our customer interface, the Client Resource Centre (CRC), as and when required.
Ideal for
All types of call centres and/or businesses with need for:
Legal compliance.
Training of sales/client support agents.
Fraud detection.
Analysis of overall business performance.
Feature Overview
How it works? All recordings are saved automatically and immediately after each call and downloading the recorded files is quick and secure. To access the list of calls you simply log into your account in the Client Resource Centre on Lexatel's website.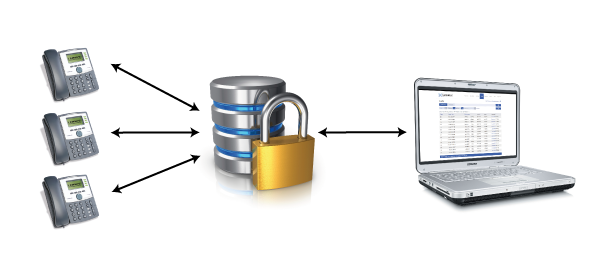 Searching. For a professional call centre it would be normal to have thousands of calls during a day. After several weeks you'd have tens if not hundreds of thousands of calls to sift though. That is why Lexatel has developed a flexible search interface where you can filter all recordings using natural language phrases that are most convenient for you e.g.
Looking for a call from your extension 12 you just type '12'. If you want calls from extensions 12, 14 and 24 just type '12, 14, 24'. • If you're seaching for a call(s) on a specific date or within a date range you select the dates from drop down calendars.
To filter by a called number (destination) you can type 'begins with 44' for all calls to the UK or if you can only remember the number contains 3479, just type either 'contains 3479' or *3479*.
Playback. Every audio file you download will be in GSM format. This is a super compressed format that allows us to store vast amounts of calls efficiently. To play GSM files we recommend Apple's QuickTimeTM player, or the popular free VLCTM media player.
Security. The information contained in the recordings can be critically important and/or confidential. Security measures include:
External quarterly auditing to guarantee our systems are PCI compliant (banking data security standard) to make sure that your data is safe.
Secure SSL protocol connection.
Password protected access.
Role specific access levels.

Business Benefits
Increase staff proficiency by identifying weaknesses and addressing them via training, mentoring, etc.
Improve productivity and adjust work culture by analysing and sharing best practices with staff.
Decrease costs through the reduction of non-business calls.• Call recordings can be used as a legally binding contract giving you two distinct benefits: they allow you to execute instructions faster than traditional methods, and they can be used to avoid a dispute after a deal has been agreed.
Reduce costs of combating fraud by using the recordings as a preventive or investigative mechanism.